TOMORROW!!!
Join us for a drop-in "good-bye tea" for Doris Walker.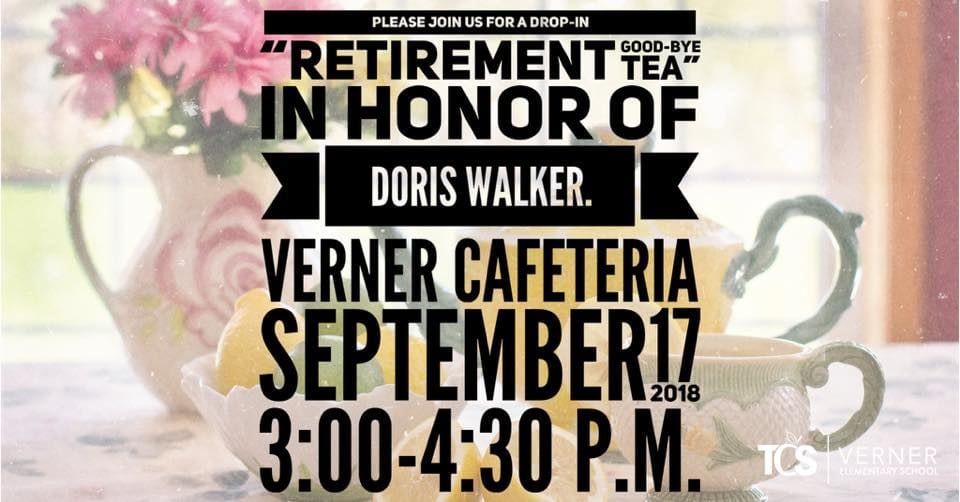 CONGRATULATIONS!!
We are thrilled to show off this GIANT check for $20,000, which was earned for achieving excellent growth in reading among 3rd graders for the 2017-2018 school year. Thanks so much to all of our fabulous teachers and faculty members that helped in this process!
An extra shout out to Calondra Ingram, Michelle Landry, Mandy Akins, and Deanna Jackson! We appreciate you and all that you do!
Fall Picture Day 
Wear your best smile on Thursday, September 20th!
Grandparents' Day
Grandparents are invited to lunch and for a visit in the classroom after lunch on either Friday, September 21st or Monday, October 1st.
Box Tops
The yearly Verner classroom Box Tops competition is kicking off again!  The classroom that turns in the most Box Tops will win a pizza and popsicles party!  Clip your Box Tops and turn them in to the mailbox in a Ziploc baggie with your child's teacher's name.  Deadline for Box Tops is October 5th.